Steaua CCA Bucharest
in June 2007 a new club was borned.The club was eFFekT TEAM.Chairman appointed alexnico10 as manager because he wanted to promote in the 4th league in Romania ( Divizia D ) and alexnico10 was the only one capable to make his dream true. First Match - eFFekT TEAM vs. Sibiu Snails = 6-0 - Round 7 A very good start for the unexperimented manager alexnico10
Before starting the Round 8 matches,new manager announces " eFFekt TEAM is now Real Madrid C F " The club changes his name...umm,new name,but not new plans :)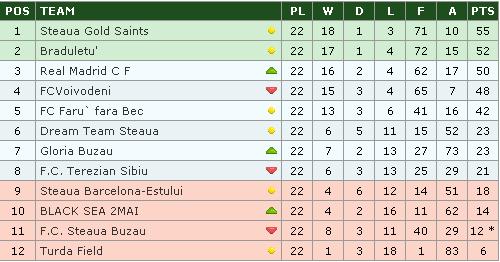 So,3th place in this season
            Season 5

New season,New players,no new plans - PROMOTION Team reach promotion at the end of the season - 2nd place
 1st FEBRUARY

But it was a problem...Youth League Last Round...Last Problems
 Steaua CCA Bucharest	vs. FC Vladimirescu 2005  
 F. C. TIGRESS  	vs 	FCVoivodeni   


POS TEAM PL W D L F A PTS
1 FCVoivodeni 10 9 1 0 53 1 28
2 Steaua CCA Bucharest 10 9 1 0 50 1 28

... so we need a score with 4 or more goals in front of FC Voivodeni to win the league
FC TIGRESS - FCVoivodeni = 0-1 ...we need 4-0 [83 min] Steaua CCA Bucharest
Serban Garz finds Ilie Albescu with a pinpoint pass
... Mistake by Dinel Marin
... Shot
... GOAL! IS 3-0

min 90:The Voivodeni fans laugh and they chant " We are the champions "
Our fans are crying BUT........
[90 min] Steaua CCA Bucharest
Julian Herman curls the ball into the box
... Mugurel Zidar couldn't reach it
... Catalin Comanescu wins the header from Marin Ogaru
... Romica Odina won't reach it!
... GOAL!
GOOOAAAAAAAAAAAAAAAAAAAAALLLLLLLLLLLLLLLLLLLLLLL WE ARE THE NEW CHAMPIONS!!!!

....We will come with new news these days Bold text
Ad blocker interference detected!
Wikia is a free-to-use site that makes money from advertising. We have a modified experience for viewers using ad blockers

Wikia is not accessible if you've made further modifications. Remove the custom ad blocker rule(s) and the page will load as expected.